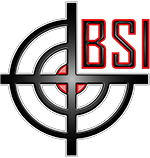 BSI Provides Naval Aviators an Edge In Training
in the Combined Arms Virtual Trainer (CAVE)
BSI is proud to have designed and delivered a Combined Arms Virtual Environment (CAVE) Joint Terminal Attack Controller (JTAC) training system in support of Naval Aviator training.  The CAVE training system provides an immersive, large field of view, partial dome display for individual and team training in the employment of sea and land-based supporting arms and close air support.  The CAVE is comprised of four main positions, the Student stations in the DOME, the Instructor station, Role-Player station and a Supporting Arms station in an adjoining classroom.  The Supporting Arms Station can be used for additional instruction, mission building/testing, or an additional Role-Player station.  BSI also designed and delivered several Emulated Military Equipment (EME) devices to include the Portable Lightweight Designator/Rangefinder (PLDR), Vector-21 Night Binoculars, and IZLID Infrared Illuminator.  The CAVE system uses a complete suite of BSI software and hardware, to include MACE, Viper DIS radio, DISCord, Open Street Map server, combat radio interface, and EME.  MetaVR's VRSG provides all image generation for the CAVE systems.
As recently reported by USNI News, one of the biggest leaps in capability at NAS Fallon was demonstrated last summer at the CAVE.  Fallon conducts a five-week JTAC course that now includes two weeks in a classroom and then one week in the CAVE before students head to the training range for live practice.
In a feat that combined live training and simulator training, "In August of this past year we had essentially a live, virtual and constructive demo. … We took equipment that's already on the aircraft that broadcasts the aircraft's altitude, airspeed, position in real time, and we put a transmitter or receiver unit on the top of the building here. We were able to tap into that feed, and what that did was it took the aircraft's, that feed of an actual aircraft on the range, and we piped it into the sim (simulator), and it was accurately recreated in the virtual environment," Maj. Jonathan Reed, Joint Close-Air Support (JCAS) branch head within NAWDC's strike department, told USNI News during the Feb. 21 tour.
"The no-kidding aircraft is actually flying on the range and is properly displayed in the sim with very low to minimal latency in a real-time altitude, airspeed, attitude in the sim. So what that provided for is a real-time control of that aircraft – which was a Type 1 control in close-air support realm, means that you have the ability to see the aircraft as well as have the ability to see the target – so in the sim the JTAC can see the aircraft that's actually on the range. … The JTAC is able to look up and actually assess the attitude and profile of that aircraft … and then provide the clearance to essentially employ munitions on the desired intended target."
Reed said 90 percent of the students that come through the facility are Navy Special Warfare personnel, either SEALs or Special Warfare Combatant-Craft Crewmen, with the remaining 10 percent coming from naval aviation or from Navy Expeditionary Combat Command riverine squadrons. Students could find themselves in combat within a week of completing the JTAC course, he said, so the training must be excellent.
T.J. Gusewelle, the JCAS program manager, said the simulator has done a lot to increase the quality of the JTACs graduating from the course.
"Before we had the simulator, the guys were really slow in the first few days on the range because that's the first time that they did it. But now getting a week of practice in here … you get better control and better performance on the range with the live assets, so it makes it more efficient. So the simulator is awesome, it's invaluable as far as getting the guys ready to go," he said.
Cmdr. Corey Pritchard, the NAWDC strike department head, said it has been harder and harder to get fleet aircraft that can support JTAC training at NAS Fallon, both due to a high operational tempo and due to challenges in keeping the aircraft ready to fly.
"So the more training we can get them here, the better they are when they actually get to an actual aircraft," Pritchard said.
"So they're not stumbling on Day 1, they're already semi-proficient or trying to get there, whereas in the past before they had this (CAVE simulator) – I know when I went through the JTAC course, you're a mess your first several times, so it's good training for you, but for the guys airborne, they're holding for a half hour just to get a bomb off because the guy (on the ground) is learning what to do."
Rear Adm. Dan Cheever, the commander of NAWDC, told USNI News that the CAVE has created "a dramatic improvement in the first pass drop and the communications on the radio and everything. They really do wring everything out here, so by the time that they're on the range it's just the real-life stuff that hits you. … A lot more first-pass drops, which is the whole goal of close-air support."
Reed, the JCAS branch head, said NAWDC is still trying to get the authority to connect CAVE to the Navy's continuous training environment (NCTE), and that while that decision has been delayed, he hoped to have it within the next 12 to 16 months. A decision to link CAVE to the rest of the trainers would help create NAWDC's ultimate vision for this JTAC trainer: "what we will eventually be able to do is put this into a guy in a F-18 simulator or an F-35 simulator at (NAS) Oceana or Lemoore, and they'll be running this simulator, talking to the guys in this simulator, and doing all their controls to get their currency requirements to satisfy their training" while taking their targeting cues from JTAC students in their own simulator in Fallon, Gusewelle said.
Related News on the CAVE…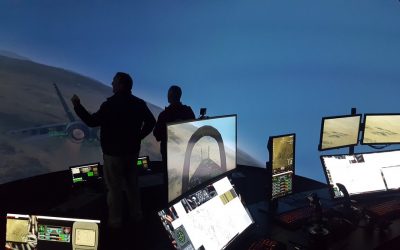 BSI Delivers Latest Combined Arms Virtual Environment (CAVE) JTAC Training System to the Expeditionary Warfare Training Group, Pacific (EWTGPAC) BSI has designed and delivered a Combined Arms Virtual Environment (CAVE) JTAC training system to the Expeditionary Warfare...
read more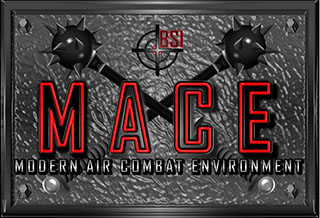 MACE User's Group (MUG) May 8-10th, 2018 BSI is happy to announce that our second annual "expanded" MACE User's Group will be held this May 8-10 at the Emerald Coast Convention Center in Fort Walton Beach, FL!   For an outline on our 3-day course schedule, please...
read more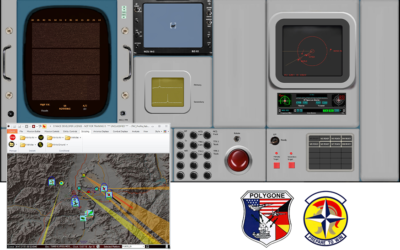 BSI Delivers 6 more MACE Licenses and Simulated SA-15 to the USAFE Warrior Preparation Center and POLYGONE Range article originally posted on USNI News     MACE with the Virtual SA-15 @ POLYGONE BSI provides 6 more MACE license to USAFE's Warrior Preparation Center...
read more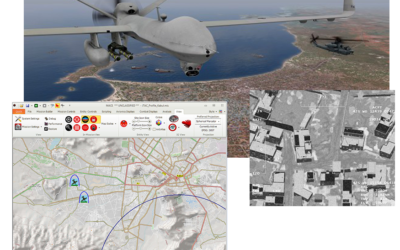 MALET-JSIL Aircrew Trainer (MJAT) has Adopted MACE as their CGF/SAF for Training article originally posted on USNI News     JTAGSS MQ-9 with MetaVR Virtual Reality Scene Generator BSI is proud to have designed and delivered a Combined Arms Virtual Environment (CAVE)...
read more
Looking for More...
For more information regarding the AFSOC delivery, or other BSI products, capabilities, and services, please select the contact button below.
Contact Us

MACE, Viper, DIScord and the BSI Logo are registered trademarks of Battlespace Simulations, Inc.